Best Electric Bikes At One Place
Tired of public transport? Starting the working day with a tired mood never lead to a good beginning. Try for a electric bike to use whenever you want to have. It will help you to get rid of your current transport issues.
If you are looking for an electric bike with great value, these details are going to help you now. We have provided you with information about electric bikes. Select your dream bike that best suits with the price you expect to offer!
NAKTO Shimano
NAKTO Shimano is an expensive bike with six-speed gears. Its' carbon steel frame is a high-strength feature. It comes with a price like $639. If this price is comfortable with you, select NAKTO Shimano because it is a valuable electric bike for such price. This is an electric bike which is available for both male and female uses. When we are considering the color, you can make selections in black or white. To fulfil the requirement of security of the bike rider, this bike has a headlamp with LED. So, it confirms the safety to travel at night.
The special option in this bike is, it comes with various designs. So, it allows us to be confident as a bike rider on the road. According to the user's preference, it is designed to change from e-bike mode to manual cycling, according to the condition.
Tomasar Power Electric Bike
This electric bike is available for a price at $619. It has a LED headlamp. This bike has a removable battery. Tomasar Power allows you to achieve higher speeds of up to 25 mph. These types of bikes operate within two modes. The e-bike model is the first model and the second model is the assisted bicycle model.
The Tomasar Power is great in utilizing energy effectively and efficiently because of the three speed-smart buttons.
Shaofu Folding
Shaofu Folding is a different and user-friendly electric bike compared to others. This Shaofu Folding electric bike has a frame made of aluminium and it allows you to collapse the bike. So, you can carry your bike if it is needed. This collapsible bike is also including a removable battery with 36-volt. You can travel up to 31 miles by it. The Shaofu Folding is designed to ensure the safety for night journeys too. For example, a loud horn and LED headlamp.
This electric bike is cheaper than other bikes because it is available for a price at $389. It is a good and reasonable price for a bike like Shaofu Folding with such value.
If you are a person who does not like the pedal, select this bike. Because this is the perfect selection for you according to your preferences. Finding a place to park your bike is no longer a big challenge for you! Especially, you do not need to worry about parking. Just fold and keep it at a place where you can access easily.
Aceshin : Electric Bike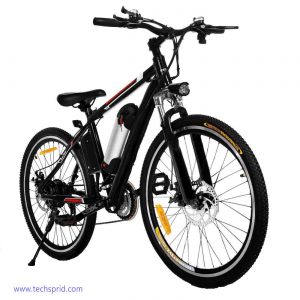 Aceshin is an electric bike with lithium tires made in high quality and it can carry a heavyweight. It is a big advantage compared to other electric bikes. Isn't it? On the other hand, it comes with a stylish appearance with a black finish that can get others' attraction too.
If you are using the e-bike mode, you will be able to ride for a long distance using the 36V Aceshin lithium battery. In addition, Aceshin comes with a smart charger. So, the user has the facility to charge the lithium battery faster. It is the best benefit that the Aceshin electric bike provides for long-distance journeys. This bike has a 250W brushless motor. You can adjust your speed as you wish.
Even the other types of electric bikes provide only two modes, Aceshin gives the opportunity to have the riding experience between three modes; e-bike, normal biking and assisted.
Don't wait. Choose your favorite electric bike model and get ready to welcome a difference in your life!